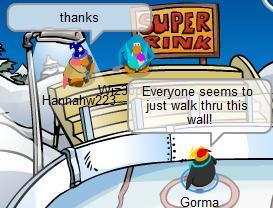 Club Penguin

is an

MMOG

(massively multiplayer online game) involving a virtual world containing a range of

online games

and activities, developed by

Club Penguin Entertainment

(formerly New Horizon Interactive). Using cartoon penguins as

avatars

, players waddle around, chat, play minigames and participate in other activities with one another in a snow-covered virtual world. After beta-testing, Club Penguin was made available to the general public on October 24, 2005 and has since expanded into a large online community —growing to the extent that by late 2007, it was claimed that Club Penguin had over 12 million user accounts. While free memberships are available, revenue is predominantly raised through paid memberships which allow players to access a range of additional features, (such as the ability to purchase virtual clothing, furniture and "

pets

", also called puffles, for their penguins through the use of in-game currency). The success of Club Penguin led to New Horizon being purchased by The Walt Disney Company in August 2007 for the sum of $350 million, with an additional $350 million in bonuses should specific targets be met by 2009.


You might also like:
Related Post :